There is so much written about crafting a value proposition – or an elevator speech. I've written about it in the past as well. You can read that post here for information on how to craft it.
What I want to share with you in this post is how dynamic a value proposition can be – and the different version you need at the ready.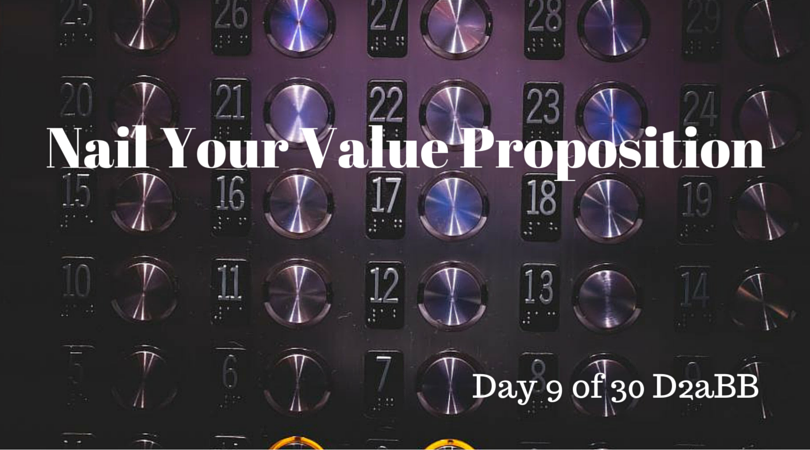 A value proposition communicates three things: why you, why your company, and why now. It does so in terms of the benefits for the prospect.
But it can't be rote memorized. Your value proposition needs to be dynamic. When you explain why you, you need to do it in a way that speaks to your audience. In other words, if I'm speaking to an institutional investor, I may communicate how I produce returns for my clients. If I'm talking to a widow, I may communicate how I take the headaches out of a real estate transaction and simplify the lives of my clients.
You don't commit intellectual suicide when you are prospecting. You have to think and anticipate. And then act accordingly.
Beyond having dynamic topics to insert into your value prop according to the need of the moment, you need at least 3 versions of your value proposition.
Super Short Form – This is when you have 30 seconds or less. It can happen on a prospecting call when these 30 seconds can earn you the right to continue the conversation for the next couple of minutes. Or it is for the fortuitous meeting. Think about when you are in line at Starbucks and realize the prospect you've been pursuing for a year is standing in front of you. You need to be ready.
Long Form – This is when you have 2-3 minutes. You can communicate so much in 180 seconds – if you are prepared.
Written Form – You should be using prospecting letters in your prospecting system. A written version of your value proposition needs to fit in one paragraph. You don't have much space in a prospecting letter so you need to brief and razor-sharp.
Parting Tips:
If you want to sound like every other broker, call a prospect and talk about yourself and what you do. I promise you they don't care. Focus on how you benefit the prospect.
If you are bored delivering your value prop, guess what? They are too. Go back to the drawing board and add some energy and passion.
Practice. Then practice some more. Then role play with someone in your office. Then practice some more. I used to tape myself giving different versions of my value prop and then listen to it. Go practice some more.
Here is my question for you. If you were in one of my coaching groups, and I put you on the spot, could you deliver a clear, concise, and compelling value proposition? If not, you've got some work to do. You can leave a comment by clicking here.
There was an issue loading your timed LeadBox™. Please check plugin settings.