RealtorMag.realtor.com
November 2015
How Ease of Use is the Most Important Factor
by
Have you ever had the nagging feeling that you are stuck? Have you plateaued? Have you ever wondered why others seem to be blowing by you?
I've been there. For whatever reason, my mind is formatted to think in processes. In other words, I believe there is a way to create a process, or a system, to maximize the efficiency of just about any task. So I'm always looking for better processes to simplify and maximize efficiency.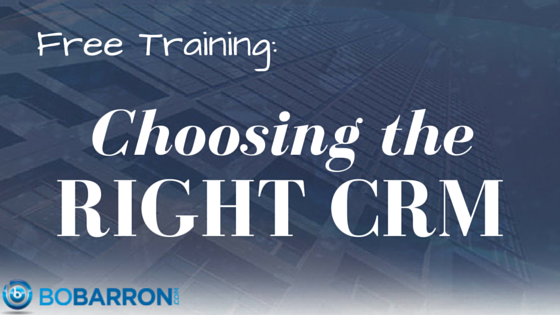 In my early CRE days, my CRM was a legal pad. That was what my dad did at the time. But I knew there had to be a better way. So I tried using Outlook – because that is what my dad had moved to. Then I tried Goldmine – then ACT!. Then I tried RealHound – and others. Each time I switched, I gained more efficiency. I was becoming more productive.
Then I switched to the cloud, and everything changed.
In tomorrow's webinar, I'm going to bring on the ClientLook guys so they can demonstrate what a simple and powerful CRM system can do…and how that can lead to more business for you.
This past weekend, I got to spend some time with Michael Griffin and John Dawson in San Diego at the NAR Convention and Expo. What they have coming is so exciting. I am pumped to share it with you.
You will learn:
Why simplicity is the most important factor in adoption of a technology
Why a cloud-based CRM is so necessary in today's mobile world
How ClientLook can save you from data entry
And so much more…
In addition, I've worked out a special deal for my readers you can't get anywhere else.
So if you are frustrated with your current CRM solution – if you long for more power and more simplicity, this webinar is for you. Seats are limited (one of these days I need to increase my GoToWebinar account), so be sure to sign up now.
And I'll see you tomorrow (Wednesday, Nov 18, at 1:00pm Eastern) on the webinar.
My friend Michael Bull (@CRE_Show and @BullRealtyinterviews me after my keynote at the NAR Convention Commercial Caffeinated Networking Breakfast. It was a great event, and I was honored to be the speaker.
Thank you to Jean Maday (@sweetjean) for putting the event together and inviting me to speak. You put together a fantastic couple of days!

How to Simplify and Grow Your Business with the Right CRM – ClientLook
Why the Opening Statement is Most Important...
by
At the Massimo Group, and personally, no topic gets more questions than that of prospecting.
I've heard stories about how animals can smell fear. I think prospects can too. The truth is, there is only one thing you are almost guaranteed to be able to say on a prospecting call – the opening statement.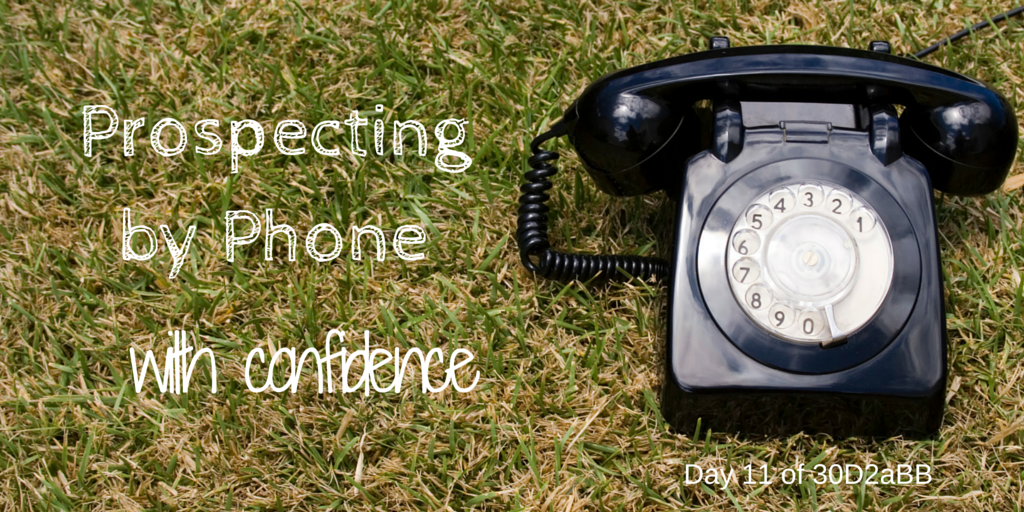 I know there are people out there that like to work of scripts – where they decided beforehand everything they are going to say. I've read books about prospecting and different ways to do it. Most I would not recommend. The best prospectors are those that get into a call asking questions and guide the conversation based on what they are learning.
Conceivably, no two prospecting calls should sound the same…save for the opening statement. This is your opening line. This you should script. This you should practice…and then practice some more.
This benefit statement should communicate who you are, who you work with, and why you are calling. It should share with them the benefit that lies in their future should they give you more time.
The entire purpose of this benefit statement is to earn the right for more time – that's it.
Here is the template of my opening statement:
Hello Mr. [Prospect]. My name is [Your Name] with [Your Company]. The purpose of my call is to share with you [benefit you are offering to entice them to agree to meet with you].
The benefit you are offering them needs to be compelling. Maybe it is a market report (boring). Maybe it is a recent deal you did that is a comp for their property (exciting). Maybe it is some juicy market info that will affect the value of their property. Regardless, it needs to be enticing.
So I want you to script your opening statement. Practice it until it is as natural to say as it is to breath. When you get to that point, you can begin your calls with confidence – and not timidity and fear – knowing you are going to nail the one thing you know you will get to say.
After that – it's up to you!
Question: How do you start a prospecting call? I'd love to see many of us share what we do and how it works. Let's make the comment section a repository of the wisdom and experience that makes up the readers of this blog! You can leave a comment by clicking here.
I'm excited to keynote the Commercial Caffeinated Networking Breakfast for the NAR Realtors Conference & Expo.
Join me and 200 of your favorite CRE professionals in San Diego on the morning of Nov. 14. Tickets are $50.
Topic:  Double Your Impact by Creating Dominating Digital Presence
We all want to have a greater impact – for our clients, our business, our family, and our lives. One way to drive greater impact is to become more known. One of the quickest ways to grow your presence is by digital means.
Creating dominating digital presence allows you to attract your perfect prospects – and repel those you don't want to work with. It allows you to demonstrate your expertise without tooting your own horn.
It also allows you to educate your future clients raising the chances that they will think of you when they are ready.
Attendees will learn a framework of action steps for the next 90 days to create this kind of presence and double the impact on their business.
October Buildout Webinar
by
I have a coaching client I was talking to earlier today. We calculated his hourly worth and it was well over $500/hr. When he is operating in his gifts he kills it.
He still does his own packages and proposals. Ugh.
I asked another client of mine who does his proposals and marketing. He has administrative help which I was glad to hear. But it takes him 2 weeks to get it back. That is brutal slow.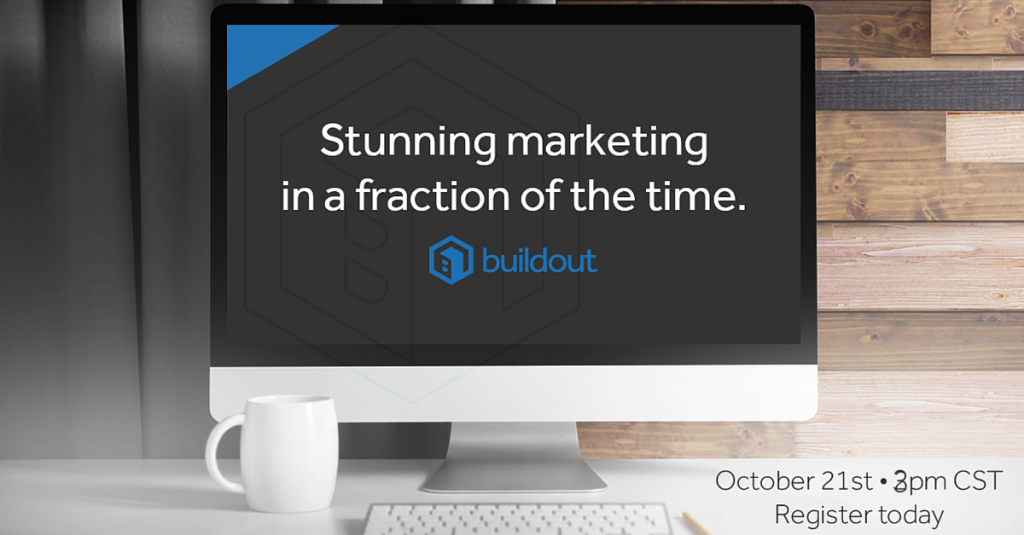 If you can relate to either of these two – either having to do it yourself, or having to wait so long – then today's Buildout webinar is for you.
Kris Krisco and I are going to share with you (and actually show you) how stunning marketing at the speed of light is the ultimate competitive advantage.
Bonus: I've negotiated a special deal for my readers that you can't get anywhere else but the webinar. If you have ever wanted to peak behind the curtain and see the magic, then this is for you.
And in case you haven't heard…my two favorite apps – Buildout and ClientLook – now integrate. I'm doing a happy dance!
Put your system on auto-pilot and improve your ratios
by
I've written a couple of posts on how to write a world-class prospecting system. You can find them below: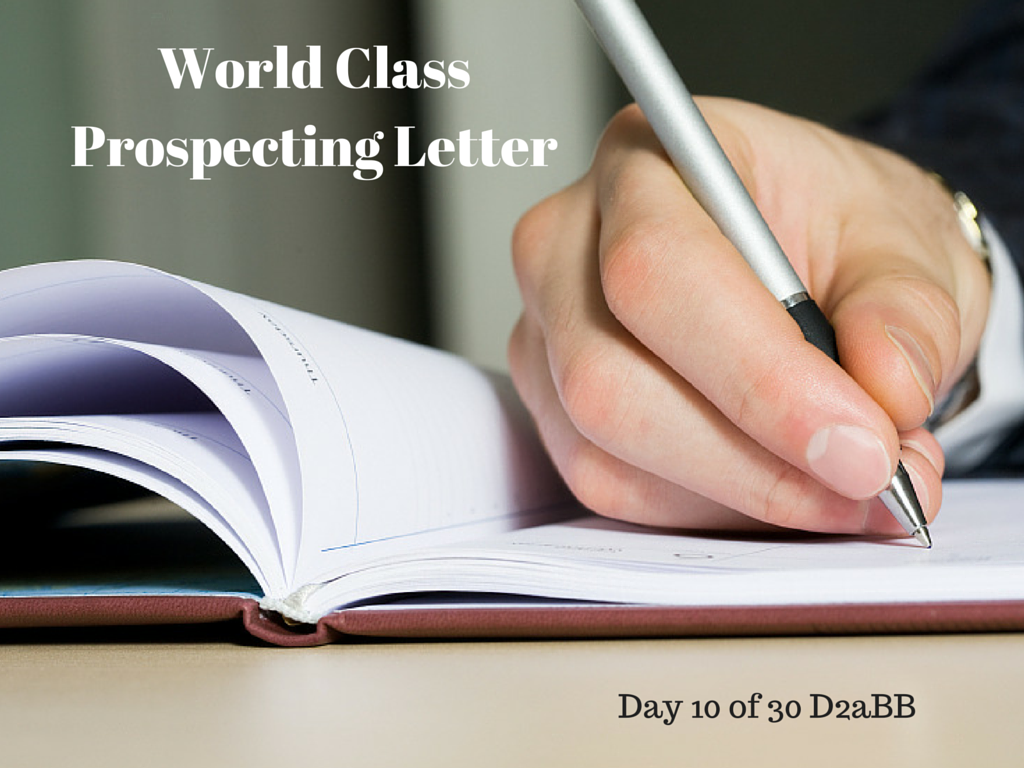 What I want to do in today's post is share with you how to systematize it. It makes all the difference.
In fact, sales professionals should systematize for maximum efficiency with these 4 tips.
4 Tips to Systematize the Use of a Great Prospecting Letter
Write one letter to many prospects – The purpose of the letter is to warm up the call. Therefore, you don't want to spend a bunch of time you should use calling writing letters. You need a letter you can use over and over again. In reality, you probably will have a couple of different letters that work for different geographies or submarkets.
Customize the first paragraph – A best practice here is to write the first paragraph in a way that can be customized. Use the address – sometimes that is all you need. Then write the rest of the letter that can stay the same for the rest or your prospective buildings/prospects in that market.
Delegate as much as possible – We used to send 30 letters a week on average. My assistant printed the letters, hand addressed the envelopes, sent them, logged that they were sent and to whom in ClientLook, and then created a follow-up task for me to call them the following week. All I did was write the original letter and physically sign the letters she printed. The entire system was almost entirely executed without my involvement. After we set it up, I spent zero mental energy on it.
Decide how many each week (it shouldn't be the same) – A key part of the letter is to inform the reader you will be calling. Because of that, you never want to send more letters than you can call the following week. So keep an eye on your capacity. Do you have a particularly full week coming up? Going on vacation? Adjust accordingly.
If you would like a copy of a letter I used years ago with great results, just click the button below. Keep in mind that this letter is very simple. But simple works and can be very effective. In fact, I was taught the original version of this letter from a friend and colleague.
Leverage The Strengths of Others So You Can Do What Only You Can Do!
by
Five or so years ago, I was on a call with my coach, Rod Santomassimo. Rod is the founder and president of the Massimo Group, and he had been coaching me through the purchase of my father's brokerage firm.
I remember him asking me if I would consider allowing him to profile me in a book he was writing. He asked me to think about it and let him know.
I thought, he is asking me to allow him to tell my story to the industry and create a great amount of presence for me that I couldn't do on my own. Five seconds later, I let him know I would be honored.
That book, Brokers Who Dominate – 8 Traits of Top Producers, became an Amazon.com bestseller. If you are a CRE professional, I highly recommend.
As of yesterday, Rod has launched his second book, Teams Built to Dominate – How to Create Your Own Platform, Grow Your Business And Gain control of Your Life.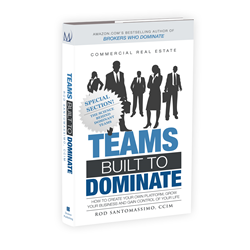 I wanted to share this you for a couple of reasons. First, I received an early copy of the book and it is fantastic. Second, I have a special code to offer you that will get you 20% off. And third, Rod and I shot a video series that goes along with the book – Team Building Toolbox – where we take you through how to implement the strategies and best practices of team building that Rod takes you through in the book.
And the video series is being offered free this week if you buy the book. But more on how to take advantage of this $300 value later.
The 5 Reasons You Need a Team…yes, even you!
A team allows you to leverage skills beyond yourself – If you are a producer, there are activities you do that generate high income. There are other activities that you do that are low dollar activities. A team allows you to put in place people with strengths in those low dollar activities. You can delegate to them. So no longer do you need to do $20/hr work. Plus, this frees you up to do those high dollar tasks that only you can do. This leads to exponential growth!
A team removes you as the bottleneck – When you work as a solopreneur, you have to do everything. This makes you the bottleneck. John Maxwell calls this the Law of the Lid in his bestseller, The 21 Irrefutable Laws of Leadership. This just means that you can't grow beyond yourself. You are the lid that prevents it. But with a team, you can break through your personal ceiling and grow.
A team prevents burnout – Most of us have experienced burnout – that hopeless feeling that nags at you. Imagine if you had a team to handle all the activities you hated doing. That should put a smile on your face!
A team brings additional perspectives – Many hard-charging producers don't like to think of this point. The truth is, there are many perspectives you don't have that a team brings. It is also true that you don't always have the best perspective, and other sets of eyeballs can lead to success in areas you will fail on your own.
A team challenges you – When you work on your own, you are only challenged to the extent you can muster motivation and discipline on your own. But when you build a team, those team members will challenge you. They will expect your best. They will push you. This is a reason I've had a coach for so many years. I need to pushed.
And why, yet again, I've learned to listen to my wife!
by
I have had cancer.
Before you get concerned, I have the kind you would want. Tomorrow, a doctor working a robot is going to remove 2% of my right kidney. A couple of days in the hospital, and that's it. No chemo. No radiation. There is a 99% chance I'll be cured.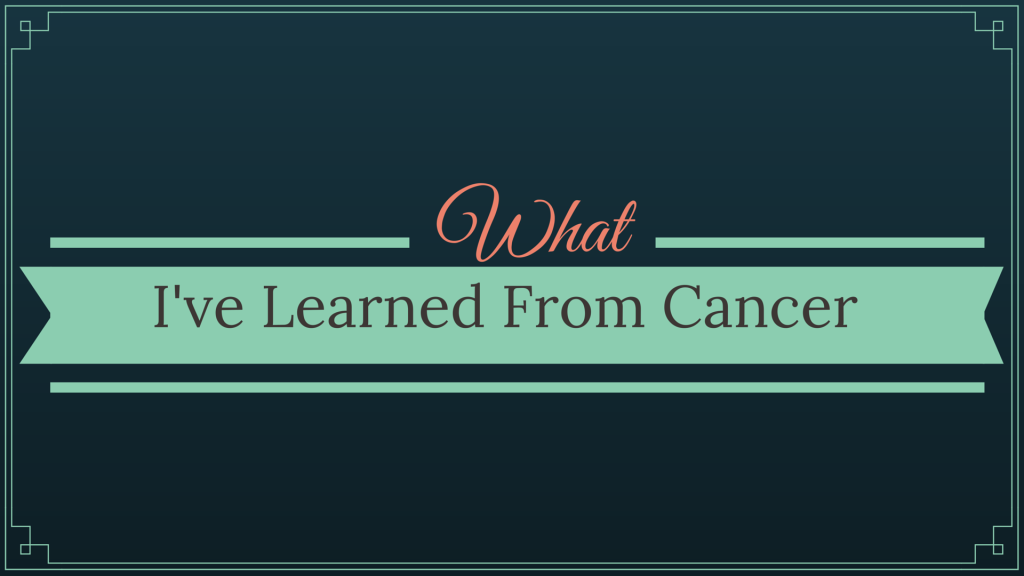 I'm sharing this with you because I've learned some things.
To set the stage, my wife has been bugging encouraging me to get a doctor for years.
Just so happened…
A couple of months ago, it just so happened that I woke up in the middle of the night with a sharp pain in my calf. I'm the deepest sleeper you know. That's never happened to me. I'd been on a couple long plane rides, and I had the thought that maybe this was  blood clot.
I got up and went to the clinic and was sent to the hospital for an ultrasound. I didn't have a blood clot. In fact, I still have no clue what that pain was.
Just so happened that a few weeks later I tweaked my back setting up a booth at a show. I've had back spasms since I was 14, but this was different. It lasted longer. It hurt a little different.
Then it just so happened that I was doing some yard work and got poison ivy…bad. My back hurt. I was itchy. So I broke down.